News
April 22, 2014
TOKYO ELECTRON DEVICE announces the release of
LSI TE7740RPF with extended I/O for car navigation systems
and an automotive AEC-Q100 compliant qualification
– Provides flexible and efficient product development using a single chip with integrated I/O functions –
Yokohama, Japan, April 22, 2014 - Tokyo Electron Device Limited (TED) announces the launch of the new LSI TE7740RPF with extended I/O and an automotive AEC-Q100* compliant qualification for in-car ICs. TED began the release of sample products on April 22 under its own brand name "inrevium."
The high functionalization of car navigation systems in recent years, especially high-end models, means that the number of I/O functions is increasingly insufficient when only the CPU's built-in I/O functions are used. With LSI TE7740RPF, I/O functions such as SPI (up to 6 MHz CPI clock frequency) and UART (up to 3 Mbps baud rate), which are required for car navigation systems, are integrated into a single chip. This allows for a direct connection with a CPU bus through the 8 bit asynchronous interface and resolves the I/O function insufficiency problem of car navigation systems.
With LSI TE7740RPF, required interface functions and universal I/O ports can be selected using a register setting. It flexibly accommodates customer systems and realizes more efficient product development.
LSI TE7740RPF is automotive AEC-Q100 qualification compliant and meets strict in-car quality requirements. It is suitable for in-car infotainment devices such as car navigation systems.
Example of a car navigation system component

TED has been providing extended I/O LSIs with various I/O functions since the 1990s. The LSIs are installed in various devices, such as MFPs, projectors and terminal devices. TED offers a wide lineup of products to match various applications. It plans to expand its lineup of these long-term stable I/O products.
* AEC-Q100
A standard for reliability tests for in-car electronic parts and ICs established by the Automotive Electronics Council
[TE7740RPF features]
- Automotive AEC-Q100-compliant qualification for high reliability
- Realizes effective product development with a single integrated I/O function chip
- Long-term stable I/O supply
[TE7740RPF product photo]
http://www.teldevice.co.jp/news_release/download/te7740rpf.zip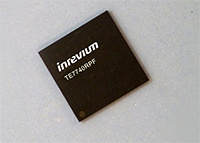 [TE7740RPF main functions]
http://product.inrevium.com/io_expander/te7740rpf.html
- I/Os
• Universal I/O port (GPIO): 36
• Asynchronous serial (UART): 5ch (1ch with flow capability)
• Synchronous serial (SPI): 4ch
• PWM: 2ch
• Pulse counter: 2ch
• I2C (Master): 2ch
- CPU I/F: 8bit asynchronous bus I/F
- External input clock: max. 48 MHz
- Operation temperature: -40°C to +85°C
- Power source/voltage: core 1.8V, I/O 3.3V
- Package: 81pin PFBGA (with 0.8 mm ball pitch), size: 8 mm × 8 mm
- Automotive AEC-Q100-compliant qualification for in-car product quality
[Shipment]
Sample products from April 22, 2014
Mass-produced products from July 2014
* Company names and product names that appear in this news release are registered trademarks or trademarks of their respective companies.

---
About Tokyo Electron Device
Tokyo Electron Device is a technical trading firm that provides semiconductor products and business solutions as well as commissioned design and the development of its own brand products.
URL: http://www.teldevice.co.jp/eng/
*About inrevium
Leveraging on rich design and development experiences accumulated at its design development center that was established in 1985, Tokyo Electron Device is focusing on development businesses through its "inrevium" brand to provide design services (commissioned designing services) based on customer requirements as well as self-developed products that anticipate future market needs.
inrevium special site URL: http://product.inrevium.com/
###
Media Contact:
Yoichiro Hotta, Yoko Fukui
Corporate Communications Department, Tokyo Electron Device Limited
Tel: +81-45-443-4005, Fax: +81-45-443-4050
Contact form: https://www.teldevice.co.jp/eng/contact_form_news.html

Product Contact:
Hiroshi Mutoh
Inrevium Sales Department Tokyo Electron Device Limited
Tel: +81-45-443-4031, Fax: +81-45-443-4059
Contact form: http://product.inrevium.com/dl-form.html