News
April 17, 2013
TOKYO ELECTRON DEVICE ANNOUNCES
An expanded lineup of IGBT gate drivers, including drive boards,
with an on-board optical fiber interface
– Suitable for large-scale plants, such as those for solar power generation,
wind power generation and industrial-use inverters –
Yokohama, Japan, April 17, 2013 - Tokyo Electron Device Limited (TED) has announced the launch of the newly developed IGBT (Insulated Gate Bipolar Transistor) gate driver TD-BD-IGFB05K with an on-board optical fiber interface that enables control of 1700V/1200A class IGBTs on a single board.
As plants for solar power generation, wind power generation and industrial-use inverters grow in size, systems for controlling high-voltage and high-current loads are becoming more complex. However, the reliability of such systems that use cables to connect with control boards cannot always be assured because of "noise," the effects of lightning, etc.
The TD-BD-IGFB05K, sold by TED under the "inrevium" brand, is a general purpose IGBT gate driver that enables simultaneous control of two 1700V/1200A class IGBTs. It has been developed by adding an optical fiber interface to TED's conventional IGBT gate driver TD-BD-IGGD05K. The TD-BD-IGFB05K is connected to a control board with an optical fiber, and directly connected with an IGBT module, so the risk of being impacted by "noise" or lightning is reduced, improving the security and reliability of the system.
When adopting a new IGBT, the major obstacles in the gate driver are the existence of an analog control system for high voltage and high currents with a plus and minus power supply, and the insulation of the system for such high voltage and high currents. TED solves these problems with its lineup of IGBT gate drivers. Each TED IGBT gate driver has a simple one-board configuration and enables easy IGBT control, allowing the user to concentrate on designing the main functions of the system.
Alongside the TD-BD-IGFB05K, TED has released the TD-BD-IGCC05K, which is a downsized version of the existing TD-BD-IGGD05K. Furthermore, in June 2013, TED will release a new IGBT gate driver that enables multiple connection of 1700V/1400A class IGBTs. TED plans to further expand the "inrevium" lineup of IGBTs in the future.
In addition, products can be customized to suit individual systems.
An example of an IGBT gate driver system configuration / Product image download:
http://www.teldevice.co.jp/news_release/download/igfb05k_e.zip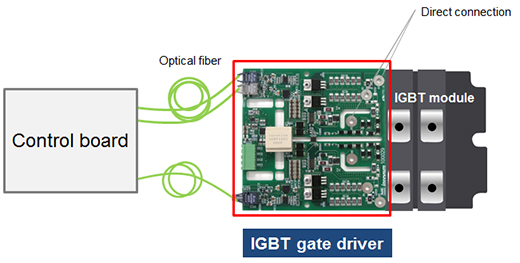 IGBT gate driver series feature comparison
http://product.inrevium.com/igbt/index.html#compare
TD-BD-IGFB05K specifications
http://product.inrevium.com/igbt/td-bd-igfb05k.html
- Dielectric strength voltage : 5000V
- Input power source: 15V to 24V, auto selection
- Input signal: via optical fiber
- Output power: 3.8W (max. 20A), 2 channels
- Short circuit protection: provided
- Mounting of active clamp: possible
- Direct connection of IGBT module: possible
- Board size: 130 mm x 130 mm
Reference price
$160
* Company names and product names that appear in this news release are registered trademarks or trademarks of their respective companies.
---
About Tokyo Electron Device
Tokyo Electron Device is a technical trading firm that provides semiconductor products and business solutions as well as commissioned design and the development of its own brand products.
URL: http://www.teldevice.co.jp/eng/
*About inrevium
Leveraging on rich design and development experiences accumulated at its design development center that was established in 1985, Tokyo Electron Device is focusing on development businesses through its "inrevium" brand to provide design services (commissioned designing services) based on customer requirements as well as self-developed products that anticipate future market needs.
inrevium special site URL: http://product.inrevium.com/
###
Media Contact:
Yoichiro Hotta, Yoko Fukui
Corporate Communications Department, Tokyo Electron Device Limited
Tel: +81-45-443-4005, Fax: +81-45-443-4050
Contact form: https://www.teldevice.co.jp/eng/contact_form_news.html
Product Contact:
Masahiko Shimizu
inrevium Division, Tokyo Electron Device Limited
Tel: +81-45-443-4031, Fax: +81-45-443-4059
Contact form:
http://product.inrevium.com/dl-form.html