News
TOKYO ELECTRON DEVICE ANNOUNCES Spartan-6 PCI Express Grabber Board supporting CameraLink PoCL
- Ideal for Machine Vision applications requiring multi-channel image capture and processing -
Yokohama, Japan, Sep. 7, 2010 - Tokyo Electron Device Limited has today announced the release of the TB-6S-LX150T-GB-R half-size PCI Express frame-grabber board which features a Spartan®-6 FPGA from Xilinx and supports the CameraLink PoCL (Power over Camera Link) interface standard.
Released under TED's inrevium brand, the TB-6S-LX150T-GB-R incorporates a high-performance Spartan-6 LX150T FPGA with an internal 3.125 Gbps (max.) transceiver in Xilinx Spartan-6 low-power FPGAs family. By supporting the CameraLink PoCL standard, the board facilitates the design of more compact products by allowing the connection of PoCL-capable cameras via a single cable and providing power supply and control as well as supporting the wide-band data transmission and image processing required for video data. This makes the board ideal for Machine Vision applications that require high-speed image transmission and image processing, such as imaging and inspection systems in industrial or medical equipment.
The board can capture images simultaneously from two PoCL-Base channels and one PoCL-Lite channel via 4-lane PCI Express Gen1 and includes 512 Mbyte of on-board image buffer memory. The availability of FPGA designs and a PC application also help significantly shorten customer product development times.
Also available is the TB-6S-GB-SHR which is based on the TB-6S-LX150T-GB-R and supports ultra-high-resolution cameras with pixel shift technology from CIS Corporation. Because this product uses the FPGA for hardware-based execution of operations commonly required by PC applications, such as pixel data sorting and Bayer conversion, it can shorten the image capture latency and reduce the processing load on the PC so that image data can transfer at faster speeds and with higher quality.
TED also offers volume production and custom modifications based on this product.
Key TB-6S-LX150T-GB-R Specifications
- FPGA: XC6SLX150T-3FGG676C - Memory: DDR2 SDRAM chip x 2
- Interfaces
- PoCL-Lite x 1ch
- PoCL-Base x 2ch
- UAR
- RS-422
- GPIO
- PCI Express Gen 1 x 4 lanes
- General-purpose pin header
- FPGA design and PC application included
- FPGA configuration data
- FPGA design source code (excludes PCI Express and DMA IP core)
- Image capture PC application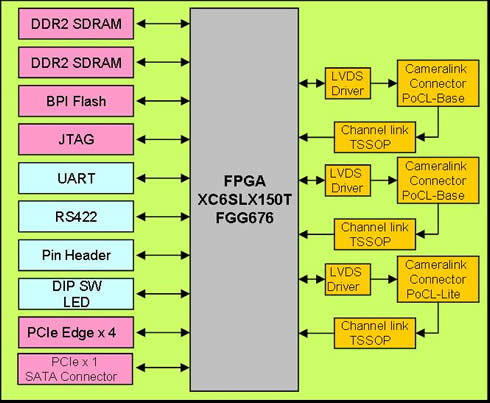 Pricing and Availability
Orders of the inrevium Virtex-6 LX760 FPGA will be accepted from the date of this news release. And full-scale deliveries from late June 2010 through distributors world wide. For pricing information, psd-sales@teldevice.co.jp or TED's distributors.
TB-6S-LX150T-GB-R Product Photograph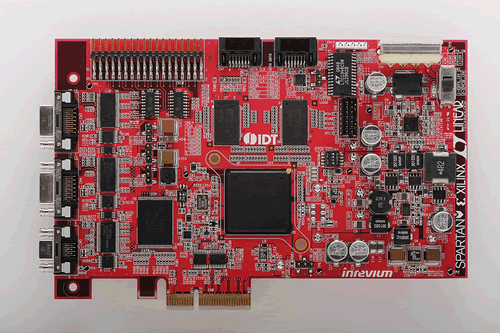 *Company names and product names that appear in this news release are registered trademarks of their respective companies. PCI Express is a trademark of PCI-SIG and is used under license. All other names are the property of their respective owners.
---
About Tokyo Electron Device
Tokyo Electron Device is a technical trading firm that provides semiconductor products and business solutions as well as commissioned design and the development of original products.
URL: http://www.teldevice.co.jp/eng/
*About inrevium
Leveraging on rich design and development experiences accumulated at its design development center that was established in 1985, Tokyo Electron Device is focusing on development businesses through its "inrevium" brand to provide design services (commissioned designing services) based on customer requirements as well as self-developed products that anticipate future market needs. Currently, TED provides over 80 types of products.
inrevium special site URL: http://solutions.inrevium.com/
###
Media Contact:
Yoichiro Hotta, Yoko Fukui
Tokyo Electron Device Limited
Tel: +81-45-443-4005
Contact form: https://www.teldevice.co.jp/eng/contact_form_news.html
Product Contact:
Aki Nishiwaki
Tokyo Electron Device Limited
Tel: +81-45-443-4339
Contact form: https://www.teldevice.co.jp/inrevium/eng/dl-form.html