News
TOKYO ELECTRON DEVICE ANNOUNCES
LSI Bridge between "UHS-I" Latest SD Card Standard Interface and ATA or CF, Sample Available in June
- Supports high-speed data transfer with up to 104 Mbyte/second at up to 208MHz -
Yokohama, Japan, May 10, 2010 - Tokyo Electron Device Limited (TED) has today announced the release of the inrevium* TE4302 LSI. This chip has a bridge function between UHS-I of the latest high-speed interface standard for SD memory cards and MMC DDR mode of the latest standard for Multi-Media Cards (MMCs) and ATA or CF. Its sample shipments will commence in June.
The trend toward higher image quality in digital devices in recent years has led to steadily growing demand for memory media with greater capacity and a wide range of applications are requiring higher data transfer speeds, including high-speed continuous shooting function in digital cameras and long-duration recording of full high definition video in digital movie cameras. The latest standard for SD memory cards published by the SD Association*1 has defined the UHS-I interface to support higher speeds (SDR50: 50 Mbyte/second, SDR104: 104 Mbyte/second, DDR50: 50Mbyte/second, etc.).
The TE4302 is a controller LSI that supports UHS-I of the latest SD card standard and MMC DDR mode of MMC standard and has a function for bridging between these media interfaces and other interfaces such as ATA and CF. Supporting SDR104 ,which is the highest bus speed mode of the UHS-I, the LSI maximizes data transfer performance with the new generation of UHS-I SD memory cards.
To suit diversified applications, the host side interface can be configured by a mode change to connect to a 32-bit or 16-bit synchronous CPU interface instead of ATA or CF. Also, the media interface supports two channels.
Example System Configuration
http://www.inrevium.com/eng/sd/te4302.html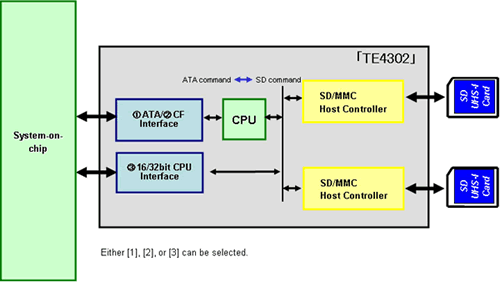 TED intends to target the LSI primarily at products that require high-speed data transfer of high-quality video data such as digital cameras, digital video cameras, televisions, and car navigation systems.
TED has a comprehensive SD Card related product range and has made a major contribution to standardization of the SD Card specifications in its role as a leading member of the SD Association since it was established so that it can release products that support the latest standards at an early date. For the future, TED also plans to release the SD Card Standard Test Tools aimed at SD card manufacturers.
*1 SD Association: Organization for establishing the SD card standard and promoting its wider adoption. URL: http://www.sdcard.org/home/
TE4302 Features
http://www.inrevium.com/eng/sd/te4302.html
● Media interface: 2 channels
(1) SD card
- Bus width: 1/4 bit
- Supported bus speed modes:
SDR104 / SDR50 / SDR25 / SDR12 / DDR50 / High Speed / Default Speed
- Supported memory capacities: SDXC (64GB to 2TB) / SDHC (4GB to 32GB) / SDSC (up to 2GB)
- Supports Embedded SD Addendum 2.10 (Boot function is not supported)
- Supports 4-bit asynchronous interrupts specified by SDIO specification Ver. 3.00 (not finalized), supports 8-bit bus with Embedded SDIO
(SDIO is only supported in CPU interface mode)

(2) MMC
- Bus width: 1/4/8 bit
- Supported bus speed modes:
DDR mode / High Speed mode / Backward Compatible mode
- Supported memory capacities: Up to 2TB
- Supports Embedded MMC (Boot function is not supported)
● Host side interface
- Selectable among ATA interface mode, CF interface mode, and CPU interface mode
● IO power supply voltage: 2.7 V - 3.3 V or 3.0 V - 3.6 V / Core power supply voltage: 1.7 V - 1.95 V
● Packages and Operating ambient temperature: 3 types
(1) BGA 121-pin (0.5 mm ball pitch / 6mm square / 1.2 mm high)
Operating ambient temperature: -20 to 70℃
(2) BGA 121-pin (0.8 mm ball pitch / 10 mm square / 1.4 mm high)
Operating ambient temperature: -20 to 70℃
(3) BGA 121-pin (0.8 mm ball pitch / 10 mm square / 1.4 mm high)
Operating ambient temperature: -40 to 85℃
Pricing and Availability
Pricing and Availability Samples of the inrevium TE4302 are available from June 2010 and full-scale deliveries from October 2010. For pricing information, inrevium-contact@teldevice.co.jp
Product Photograph Download
http://www.teldevice.co.jp/news_release/download/te4302.zip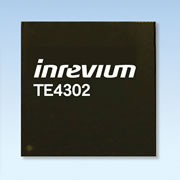 ---
About Tokyo Electron Device
Tokyo Electron Device is a technical trading firm that provides semiconductor products and business solutions as well as commissioned design and the development of original products.
URL: http://www.teldevice.co.jp/eng/
*About inrevium
Leveraging on rich design and development experiences accumulated at its design development center that was established in 1985, Tokyo Electron Device is focusing on development businesses through its "inrevium" brand to provide design services (commissioned designing services) based on customer requirements as well as self-developed products that anticipate future market needs. Currently, TED provides over 60 types of products.
inrevium special site URL: http://solutions.inrevium.com/
###
Media Contact:
Ryoko Kokubu,Yoko Fukui
Tokyo Electron Device Limited
Tel: +81-45-443-4005
Contact form: https://www.teldevice.co.jp/eng/contact_form_news.html
Product Contact:
Hiroshi Muto
Tokyo Electron Device Limited
Tel: +81-45-443-4031
Contact form: https://www.teldevice.co.jp/inrevium/eng/dl-form.html